We are very much looking forward to connecting with many of you in person at
EXHIBITORLIVE
in two short weeks. Be sure to stop in the
CTSM office in Jasmine A, Level 3
. You can complete your quizzes and affidavits here, get questions answered, relax with some refreshments, and meet others in the CTSM program.
If you are a new enrollee, be sure to attend the
First-Timers Meet Up on Monday evening
from 5:30-6:30, in South Seas F, Level 3. As the name says, "meet up" with others from your area and get tips on getting the most out of your EXHBITOR
LIVE
experience.
Remember to pack a new or gently used children's book (or a few of them) for
Spread The Word Nevada
. In addition to books, monetary donations are welcomed. The collection box for books will be near the show office and donations can be made in the show office. This charitable endeavor is doing a great job getting books into the hands of kids who have none because they can't afford them. Let's help them out!
Professional Photography Team - New This Year!
Don't pass up the opportunity to get a FREE head shot taken while you are at the conference (in The Square near the Registration Area). You'll need a new head shot when you complete your portfolio, become a CTSM graduate, or even just get an up-to-date one for business.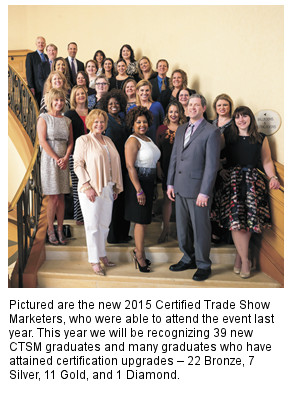 CTSM graduates, we are looking forward to celebrating with you at the
Graduate Dinner and Awards Evening
, Sunday, March 12th.
We'll also be celebrating the
25th anniversary of the CTSM Program
. From a small beginning in 1992, CTSM has been on a steady path of growth and recognition. We are now 563 graduates strong, with hundreds nearing completion of their requirements for certification.
Not taking a full load of 13 sessions? I still have some
open staffing slots
to fill in the CTSM booth. Please contact me if you are willing to help out for 1 1/2 to 2 hours (Sunday 3:00-4:30; Monday 3:00-4:30; Tuesday 9:30-11:30; Wednesday 10:00-12 noon).